After two years of empty streets and classes, Delhi University (DU) Thursday came alive as hundreds of excited, chattering students made their way to their colleges on the first day of the campus reopening since the Covid pandemic.
While DU has opened libraries and other facilities partially at various stages, the campus has never fully reopened since 2020. Classes and exams have both been
held completely online. This changed on Thursday, as several students could be seen in classrooms, catching up with their peers and teachers for the first time as offline classes began.
Several colleges had made elaborate arrangements to welcome back students, especially freshers. At Miranda House and Shri Ram College of Commerce, for example, huge hoardings were put up on Covid protocols to make students aware. SRCC had also decked its campus in red and white balloons to welcome students, and also held an open mic with songs and dances.
At several colleges, there was thermal screening at the gates and hand sanitiser was being sprayed. Apart from the excited first years, several second-year students had also come to the college for the first time.
Geeta, a Hindi student from Miranda House, said she was very excited to meet her classmates but had certain reservations. "This is the first time I've stepped into the college. It feels surreal. I'm just worried that our exams will be held in the offline mode in May even though we've already had many classes for this semester in the online mode. I wish that can be changed," she said.
Siddhi Joshi and Prarthana Mehrotra, second-year students of BA Programme, were seen locked in embrace in the corridors of Miranda House. "She has become one of my closest friends, but this is the first time I'm seeing her. The level of happiness we feel is unparalleled. It's a great thing that offline classes have started because social interaction is very important for our growth beyond classes," said Mehrotra.
Joshi, however, said that some of her friends in other cities were finding it difficult to return immediately and so would join classes late.
Avinash Bansal and Nitish Sharma, second-year B.Com students at Aryabhatta College, travelled from Meerut to Delhi Thursday morning to attend classes. "We've been trying to find accommodation here, but they are all beyond our budget, and it has been difficult to shift suddenly. Till we find a place to stay, we'll have to commute," Bansal said.
Piyush Kaushal, a second-year student of B.Com (Hons) at the Shri Ram College of Commerce, who's also part of the college's Drama Club, said the campus reopening was beneficial on multiple fronts.
"There is of course the fact that we get to meet our friends and have in-person classes, but even with theatre we can now start having physical rehearsals. As of now, everything was happening on Zoom," he said.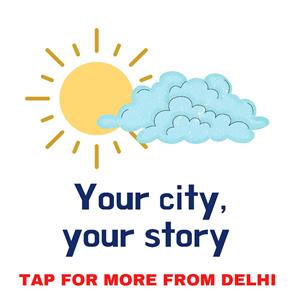 Small groups of students could be seen huddled together engrossed in intense conversations all over the campus Thursday. College lawns especially were pulsating with life, with several students taking selfies to mark the first day of socialising with their friends and classmates.
The crowds were such that around 3 pm, long serpentine queues had formed outside the Vishwavidyalaya metro station, with several commuters having to take rickshaws and autos to other nearby metro stations.
Meanwhile, Satyaniketan was bustling with college goers on Thursday, much to the joy of local shop owners and food sellers. Cafes were full, and students waited outside for tables.

Pushpender (22) who sells chaat on a cart outside Motilal Nehru College is hopeful about business returning to normal, as students and parents approach the cart for a snack.
"The roads here were deserted when the colleges were shut. The number of customers will definitely increase, now that the students are back. I stopped coming here for a while, when the colleges were shut," he said.
PGs are almost completely booked. Prashant Panwar, who runs a PG with 100 rooms in Satyaniketan, said all rooms were booked a few days ago. "PGs here were mostly shut when DU remained shut. Students began to return by around February 12, and it was fully occupied by around February 14," he said.
'Skimmed milk ka paneer, vegan protein': Bhumi Pednekar reveals the diet Rajkummar Rao followed for 'Badhaai Do'



Aranya Shankar… read more

Abhinaya HarigovindAbhinaya Harigovind is a correspondent with The Indian Express. She wr… read more